Join him on his bench, but watch out for that cheeky Seagull.
Since performing at The Edinburgh Fringe Festival in 2004 a month long run of a one man show "Just Push The Button", Andy has diversified into street theatre work as a human statue, first in a kilt shop window to replace a mannequin, which he also did in Primark & New Look as part of local comedy festivals. In addition as a silver St. George and a golden William Shakespeare at the opening of the Hull Truck Theatre and now latterly as "The Gold Man" based in Hull but also performed in Barcelona, York, Gran Canaria, Leeds and Edinburgh. The Gold Man has most recently been spotted at the 2012 Edinburgh Fringe Festival, appearing on the cover of the Edinburgh Evening News, in the Guardian Newspaper, as the feature for Time Magazine's online video for the 2013 Arnhem World Living Statue Championships, and even on national television!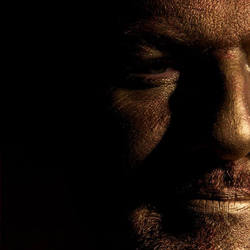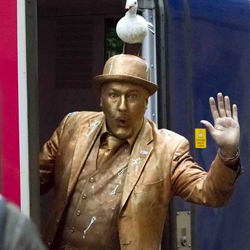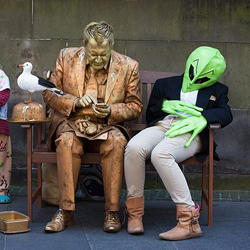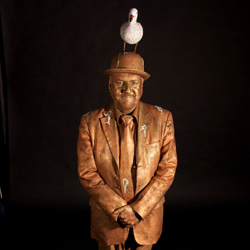 "The Gold Man is much more than a Human Statue it's a comedy performance that allows the public to participate by joining him on his bench, perhaps to sit quietly or pose for a photograph either way he will surprise those who believe he is really a statue and amuse onlookers with his antics to persuade people to pose on his bench."
"The Gold Man". The street statue that is so much more interactive when you join in. The suited businessman enjoying a fish and chip lunch. Sat on a park bench. There is space for another next to him but watch out for a cheeky seagull that is perched on top of his hat ready to swoop down and steal his fish.