I needed a challenge in order to qualify for a Diamond Duke of Edinburgh's Award. I had achieved Gold back when I was 25. I had an idea that would mean my gold persona The Gold Man, visiting all the real statues in Hull over one day. An opportunity under "Just Giving" to raise some funds for the DoE charity. The plan was to meet by Amy Johnson's statue at 9am and progress from there. The reality of a colder and rather wet morning made it even more challenging. Darren was looking after the camera work and my Sister handing out Gold Man cards and assisting us both. The idea was to visit every single statue, take a few pictures and just appreciate each one individually plus possibly interacting with anyone in the vicinity.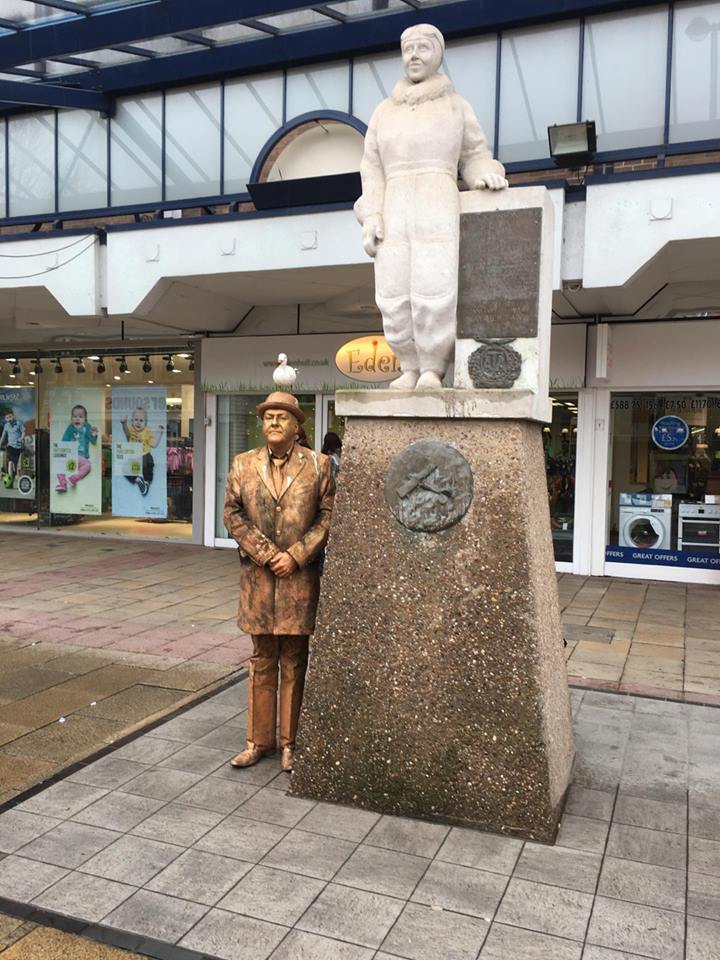 After a soggy visit to Queen Victoria we were let into the Tourist Information Office, even though it was yet to open. This allowed us to check on our statue list and visit 4 more statues in the City Hall foyer. We moved out and on to Sir Leo Schultz before getting into the Guildhall - we expected three statues but had a bonus of two more!
Guildhall to Hull College and back to the front of the Guildhall. On to the High Street where we lingered at Wilberforce House for our third William Wilberforce of the day. Ghandi and a toad before heading to King Billy. Tea break at Nibbles by C4DI before the pier, The Deep and lunch at Minerva. The quietness of the day during the rain was subsiding as families emerged and queued to get into The Deep.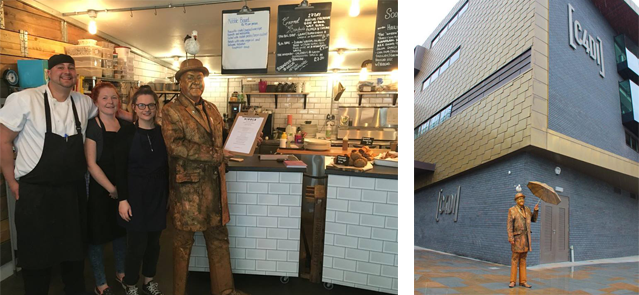 An impromptu face painting in gold of a retiree having a party in the Minerva was a lunchtime surprise! On to the Marina...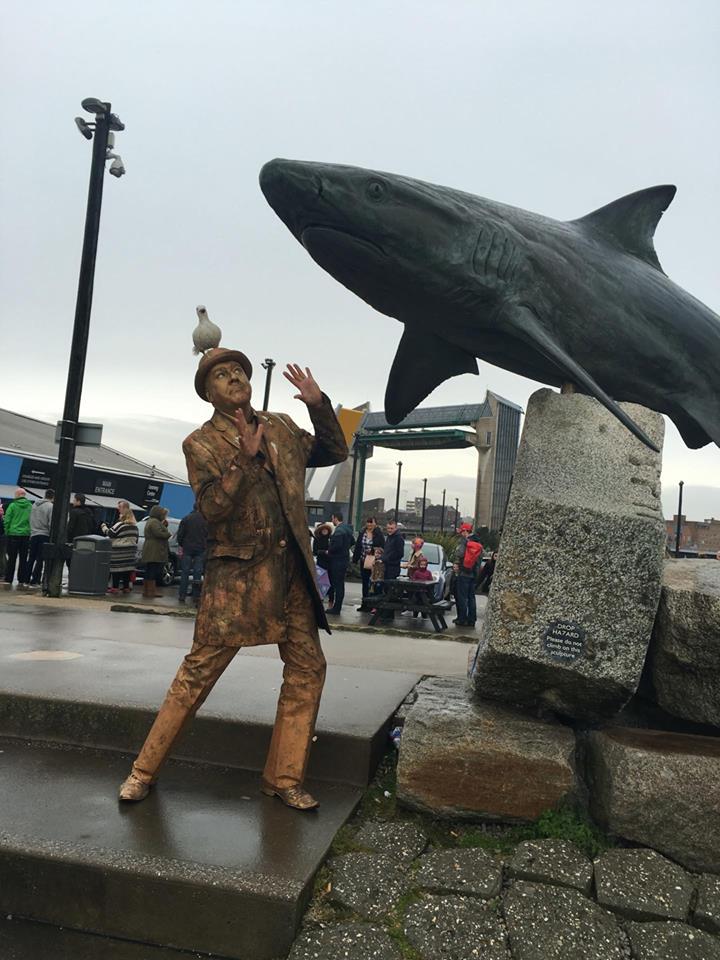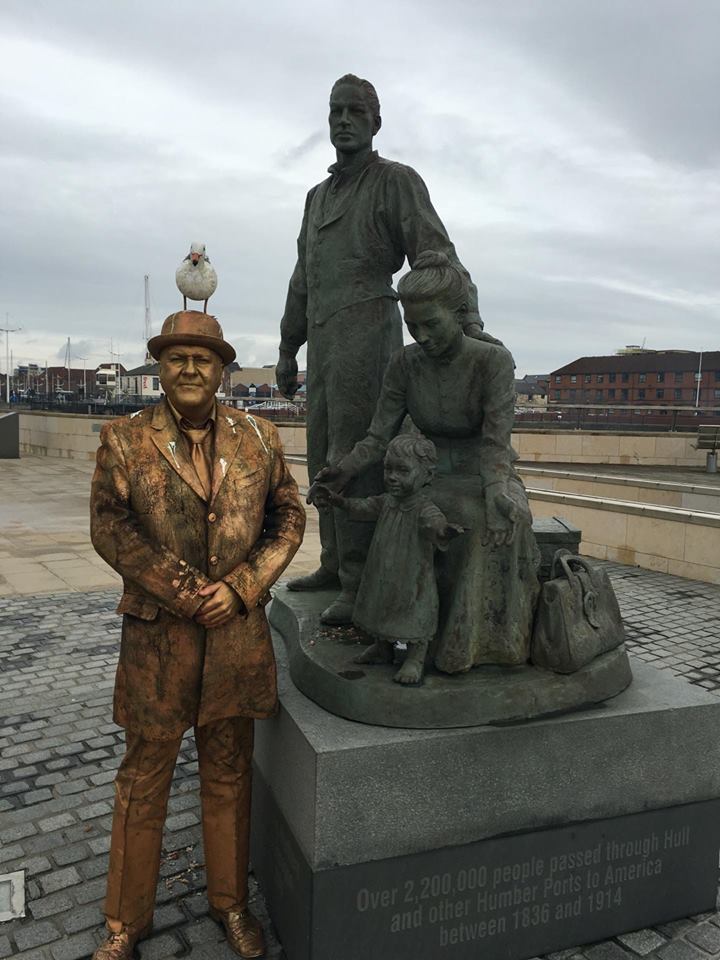 Then into the station for a spot of Larkin' about...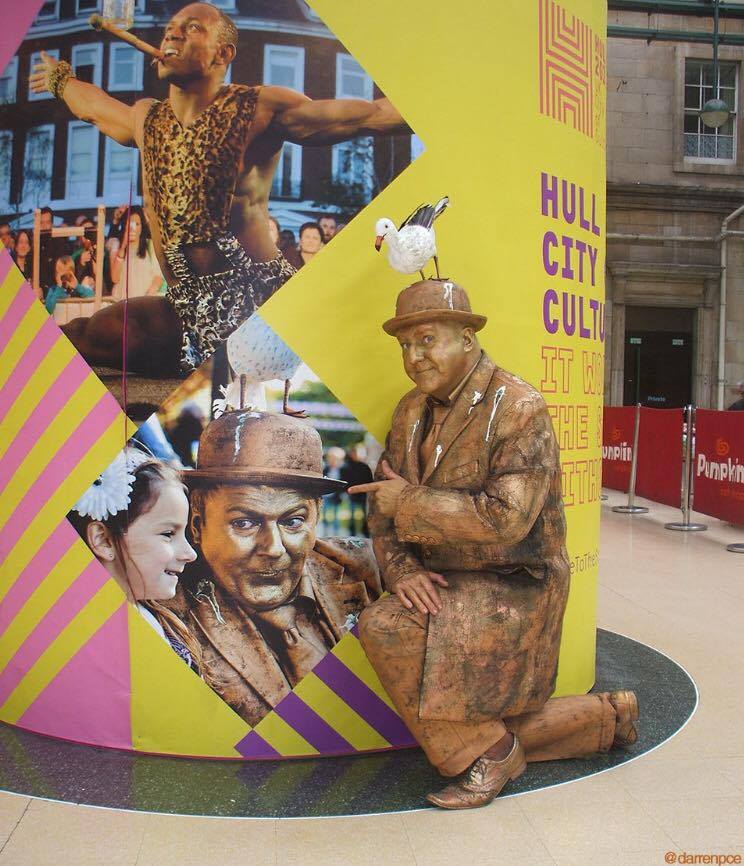 Wandering towards the Hull New Theatre & David Whitfield, we stopped for a few selfies - as you do.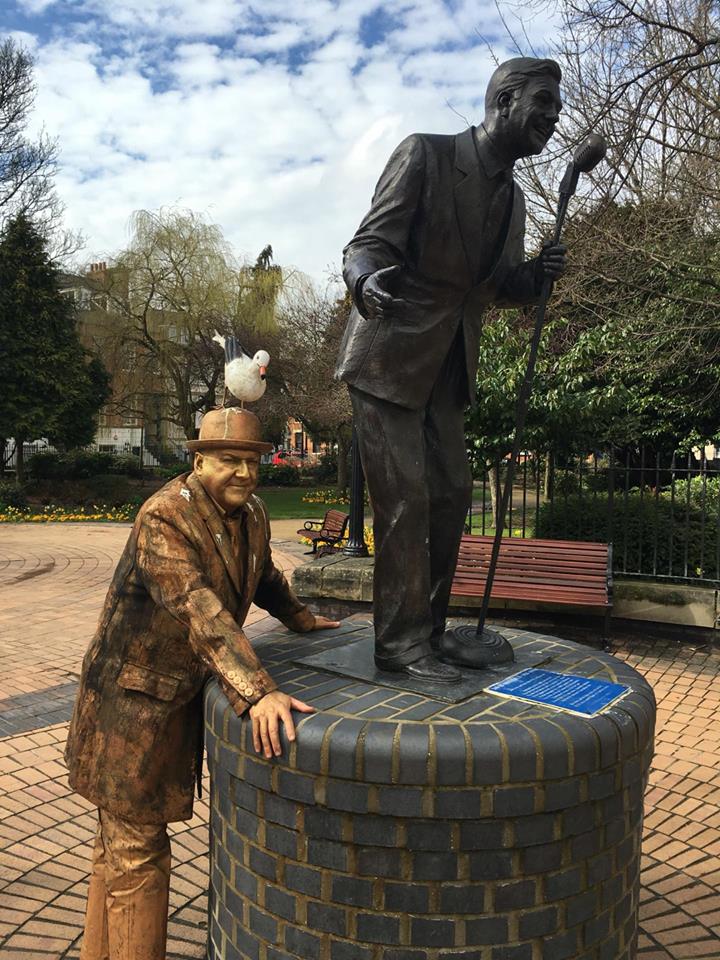 Now followed the bit by car. We figured that we had five more statues to go. Pearson Park for the Royals, Hessle Road and then onto East Hull.

Despite being convinced that Jack Harrison has a statue at the KC Stadium and having an unexpected walk around the stadium we found this to be untrue - it's a bust inside.

Our penultimate statue was on Holderness Road. Representing an age when the public contributed to a solid stone reminder of the good and the great that were elected to office.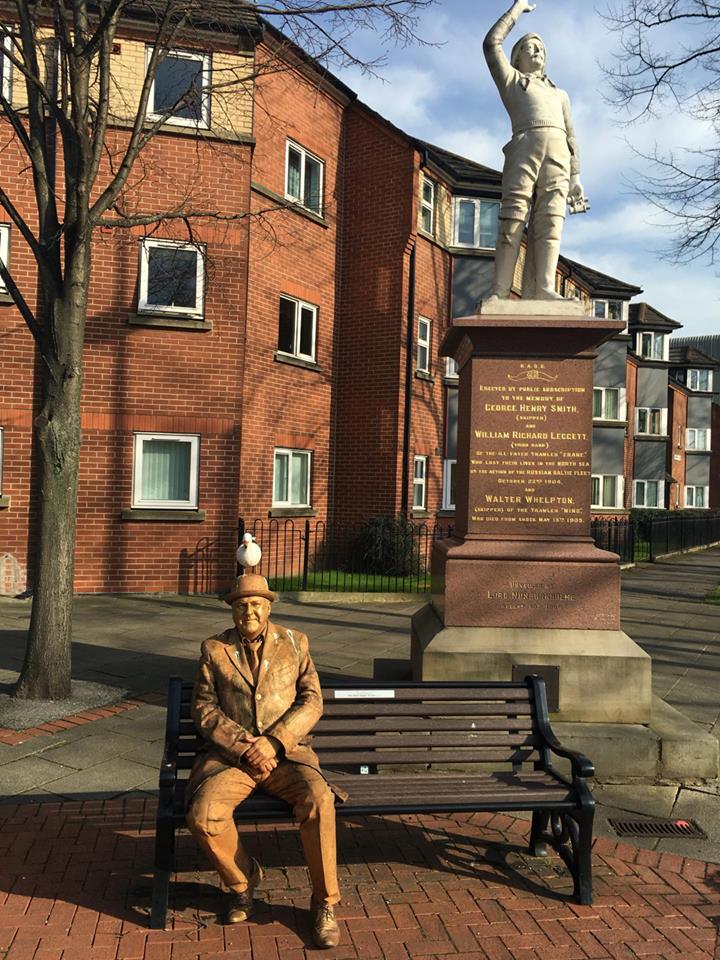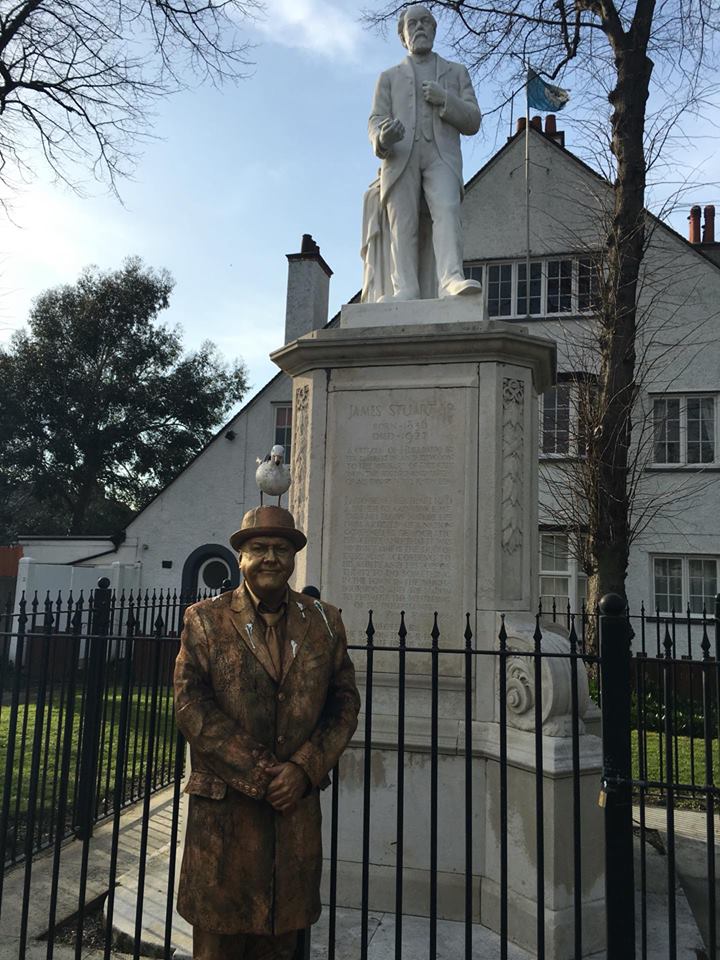 Our last by St. Peter's Street was totally new to us all...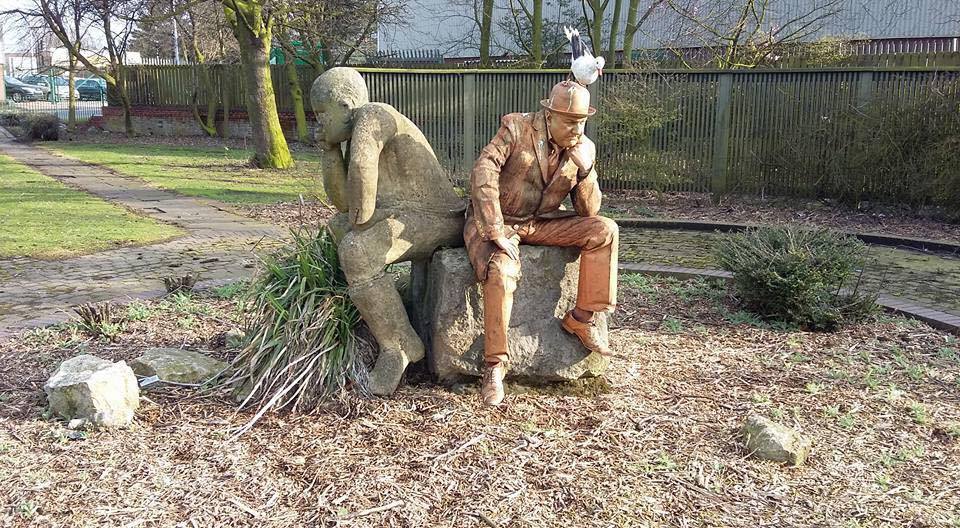 It had been a long day that had demonstrated a need to retain awareness of our statue heritage. What next? A book perhaps or a tour opportunity. Who knows what the 2017 legacy could bring.

We met some lovely people along the way, had a refreshing tea at Nibbles, a splendid lunch in the Minerva and random attention from time to time along the way.

Special thanks to Darren & Jenny.

Watch this space for more statue antics!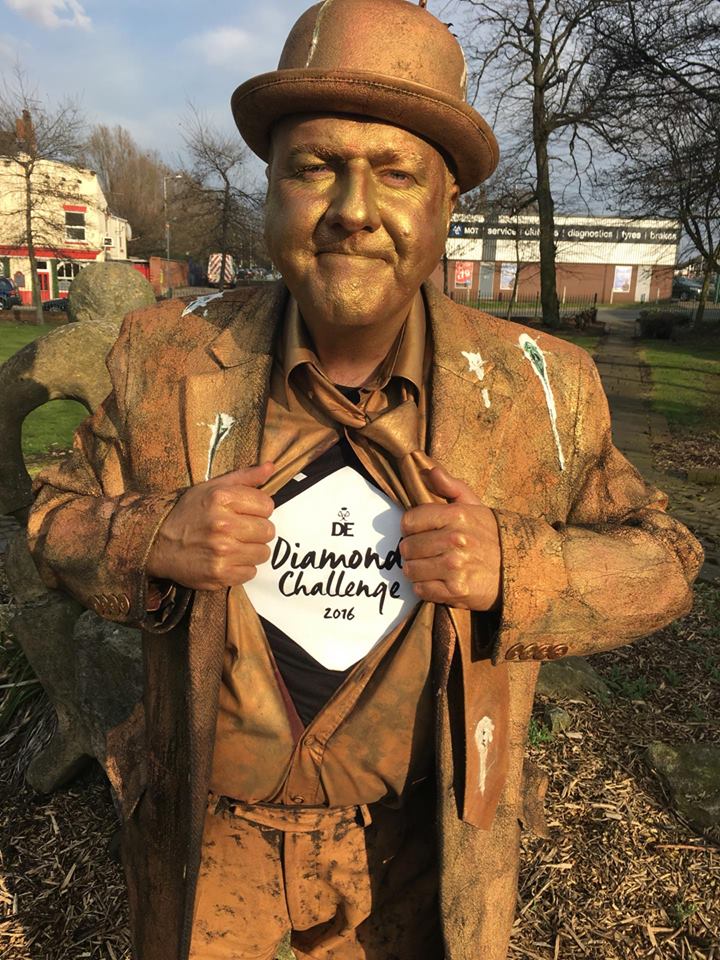 The Gold Man goes Diamond for one day